"bitFlyer's crowdfunding website, fundFlyer, gives people an opportunity to donate to causes they believe in, Bitcoin related or not. This platform brings a human, community centred element to the conversation, which is sometimes missing when discussing data, facts and figures to do with blockchain and cryptocurrencies."
While blockchain technology and cryptocurrencies started out as something on the fringe of the tech world, they have now become household names. Currently, technological innovations in many sectors are powered by blockchain, and the movement of cryptocurrencies by both individuals and businesses is safer and more regulated. Bitcoin is no longer traded as a novelty, and as it is embraced by large corporations and governments around the world, its image of being part of the "wild west" is starting to fade.
So what's next for cryptocurrencies? With bitFlyer's expansion into Europe and the US, it is taking a model that has proved to be extremely successful in not only attracting crypto traders, but also driving wider engagement, education and partnerships. With the amount of exchanges out there that are offering the same services and guarantees, bitFlyer's forward-looking strategy shows us what can be achieved by going beyond what is expected of an exchange.
What Service Does bitFlyer Offer?
The largest cryptocurrency exchange in Japan, bitFlyer has over 2 million users and prides itself on its security and ease-of-use. Apart from this, it has positioned itself as a cryptocurrency ambassador, making links with the wider community and offering a wider range of services for users and those who may simply want to learn more about crypto:
Taking transparency seriously, chainFlyer allows users to accurately explore the Bitcoin blockchain and its transaction, with an intuitive interface and real-time data;
bitWire is instrumental in driving partnerships with major retail businesses in Japan, furthering the penetration of Bitcoin and allowing bitFlyer users to get special discounts and cashback on credit card purchases.
In this blogpost, the last in our series, we will be focusing on bitFlyer's crowdfunding tool, fundFlyer. This platform allows bitFlyer users to donate some of their cryptocurrency to causes they believe in. In the aid and donation sectors, blockchain can be put to great use due to its transparent nature, although cryptocurrencies are often seen as an instrument to retain capital rather than share it. fundFlyer is changing the conversation around cryptocurrencies, showing that it can be indeed a force for good!
What is fundFlyer and How Does it Work?
As mentioned above, fundFlyer is a crowdfunding service that allows users to pledge amounts of Bitcoin (rather than traditional currencies) to an existing project, or to an idea for a project that needs funds to get started. Becoming prominent in 2003 with the website ArtistShare, the crowdfunding model has captured people's imagination with many notable success stories, from technological innovations to movies, garnering millions and sometimes over a billion dollars!
Who Participates in a Crowdfunding Project?
The main participants in a crowdfunding project are:
The Project Owner
This is the person who initiates a project on fundFlyer. They estimate how much they will need to turn their idea into reality and then ask for this amount. If the funding goal is reached, the project owner can then exchange the donated Bitcoin for cash and set about bringing their project to life. As the campaign to raise money gains momentum, the project owner can share any developments with supporters.
Note, that if a project does not gain the required funding to be realised, all donations will go back to supporters in full.
The Project Supporters
These people are the lifeblood of crowdfunding projects. Without them, no project would be successfully realized. On fundFlyer, supporters can either purchase gifts or make donation using Bitcoin, with amounts starting at 0.01BTC.
The Platform
The platform is the tool or website used to facilitate the connection between project owners and supporters. When large amounts of money are concerned, it undoubtedly needs to be a trustworthy and secure third party. In one of our earlier articles we detailed exactly what security measures bitFlyer takes to protect users' funds, from a certified secure network, to firewalls, hacking prevention measures and the segregation of customer assets. The robust measures undertaken extend to fundFlyer, where all accepted donations are stored just as securely.
What Do I Get Out of Donating to fundFlyer?
fundFlyer supports two models of funding, the "purchase model" and "donation model". In the purchase model, a bitFlyer user can acquire a non-monetary "gift" in exchange for their donation. A gift could be anything, such as a product, service or experience associated with the project.
Whether your donation involves receiving some sort of gift is immaterial for a lot of people. As with any charitable venture, people gain satisfaction from helping others and seeing their money used to develop a project related to something they are passionate about.
Finally, both funding models allow supporters to develop a relationship with the owners and community surrounding a project. Especially for a complex project, it can become more and more rewarding over time.
What Are Some of fundFlyer's Successful Cases?
fundFlyer already has some success stories. While most projects advertised are Bitcoin/blockchain related, they don't have to be. Ventures can be from any field. Here we will look at two cases where supporters came together to get a project up and running.
Help Japanese politician Mineyuki Fukuda develop a global framework for Bitcoin through conversations with US lawmakers
Although very popular in Japan, the country with the highest numbers of cryptocurrency users, Bitcoin ATMs and trading volumes is the United States. Furthermore, the US also has the greatest number of Bitcoin nodes (2625) versus second place Germany (2016) and third place France (698).
Naturally then, the place to start if you are trying develop a multinational agreement would be the US.
Mineyuki Fukuda is the chair of the Diet's (Japanese Parliament) Information Technology Strategy Subcommittee. He saw the potential that cryptocurrencies have in revolutionising almost every sphere of our life and wanted to develop some model, in collaboration with American entrepreneurs and officials, to bring back to Japan. There he wanted to further develop this framework and then export it worldwide.  
By donating 1BTC through fundFlyer, 20 people received a special gift of dinner with Mineyuki Fukuda in San Francisco or Washington D.C.!
Build a School in Abui-Tsita Village, Ghana, bringing education to over 280 children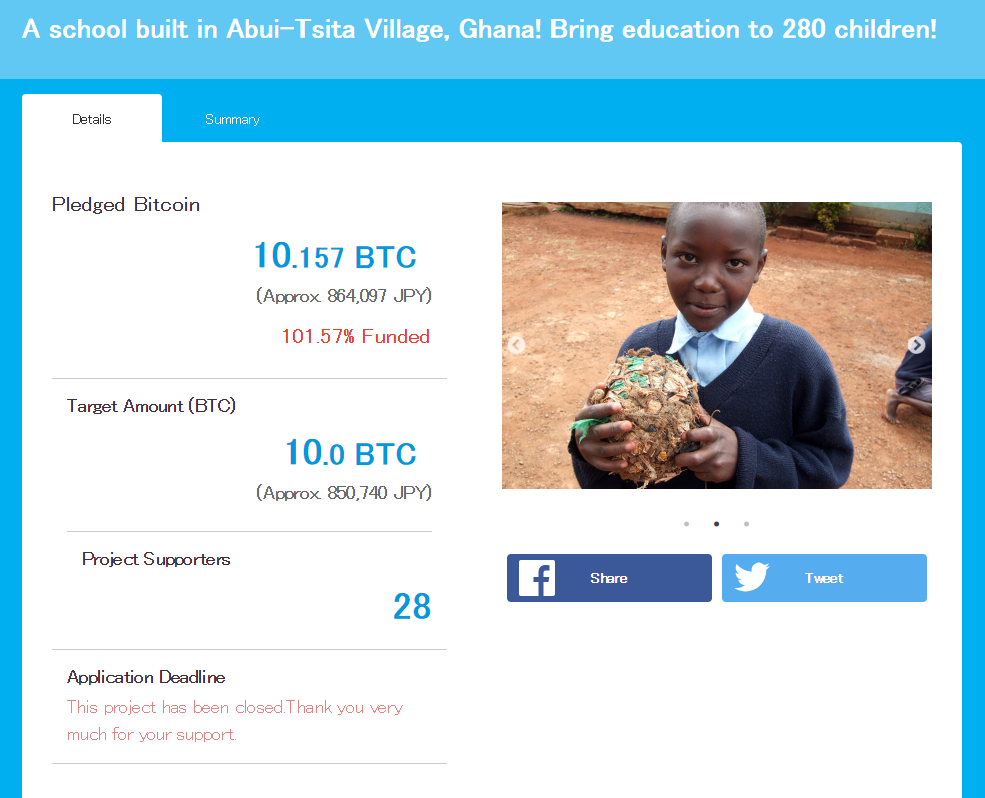 Proving that Bitcoin can also be used to donate to causes outside the tech sphere, our second success story comes from Ghana, where bitFlyer users donated their money and helped fund the construction of an entire school in Ghana. This project was started by Yuto Doya, a Japanese citizen who set up a non-profit organisation, primarily focused on helping children in Africa receive a good education. Through fundFlyer, Yuto solicited donations from users, with sums ranging from 0.05BTC all the way up to 4.96BTC. Those who donated received signed photos, honorary titles and T-shirts to thank them for their charitable contribution. bitFlyer members were able to contact Yuto, becoming an integral part of this campaign, and received regular updates through the non-profit organisation's website.
The school has become an integral part of the community and brought joy to children and their parents. Through crowdfunding it was made possible.
What Else Should I Know?
When you trade Bitcoin on an exchange or send a cryptocurrency through a blockchain, you will always incur some kind of fee. If this weren't the case, crypto exchanges would never make any money. The great thing about fundFlyer is that project supporters are not charged any fees. Any service fees are charged directly to the product owner, so you don't have to worry about any hidden tariffs. More information can be found at https://fundflyer.bitflyer.com/en/.