On 22nd May 2010, programmer Laszlo Hanyecz purchased two Papa John's pizzas for 10,000 bitcoins – at the time, the equivalent of around €33.00. Not a bad price at all for two large pizzas (at the time, Hanyecz was reportedly delighted that he'd even have some leftover pizza for breakfast), and a major milestone for the digital currency with which the world is now vastly more familiar. It's widely believed to be the first purchase of a product with bitcoin, proving the then-nascent cryptocurrency's potential as a means of payment.
Ever since that day, crypto-enthusiasts have celebrated the milestone each year on 22nd May as Bitcoin Pizza Day. And with today marking ten years since that first cheese-topped bitcoin purchase, we at bitFlyer Europe wanted to mark the day with something nearly as fun as pizza itself.
At the time of writing, in May 2020 10,000 bitcoins were worth over €84 million – quite the increase in value! Paying that much money for two pizzas (no matter how delicious Papa John's makes them) feels pretty extortionate – but what could you buy today if you had 10,000 bitcoins at your disposal?
We have done a bit of research to find out what you could have bought with 10,000 bitcoins on Bitcoin Pizza Day in 2010 all the way up to today. So what might those bitcoin millionaires amongst you choose to buy to celebrate ten years of Bitcoin Pizza Day?
Well if, like Laslo Hanyecz, you want to be really sure that you'll have leftover pizza for breakfast, you could always buy 4,447,546 Papa John's pizzas with your €84,354,832 fortune. But before you get dialling for that delivery, consider that you could also buy your own private island in Florida.
We will let you decide what is the better investment, but in the meantime take a look below to learn more about what those lucky early investors in bitcoin might have been doing with their fortune over the past decade.
And, of course, Happy Bitcoin Pizza Day! If you can't quite afford to celebrate with a new island today, you only need around 0.00439 of a bitcoin to at least treat yourself to two pizzas. Enjoy!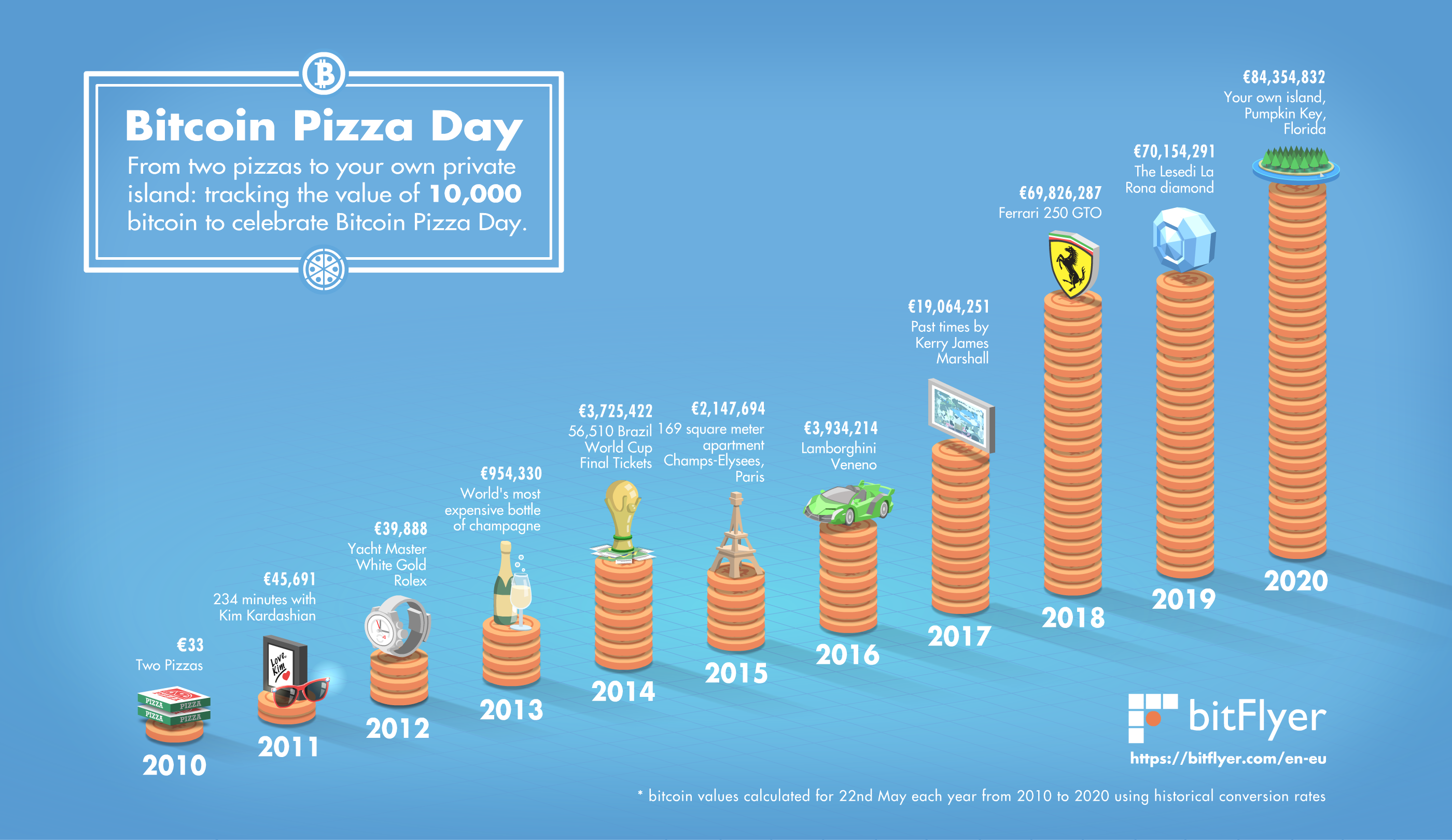 References
In case you're wondering, here's how we worked it all out. (Please note, these prices are accurate at time of writing: 15th May 2020):
https://www.investopedia.com/news/bitcoin-pizza-day-celebrating-20-million-pizza-order/
https://www.glamourmagazine.co.uk/gallery/celebrity-private-party-fees
https://www.minus4plus6.com/PriceEvolution.php
https://www.themilliardaire.com/en/gastronomy/the-worlds-most-expensive-bottle-of-champagne-8795/
https://www.cbc.ca/sports/soccer/fifa-sets-ticket-prices-for-2014-world-cup-in-brazil-1.1308336
https://paris.notaires.fr/fr/actualites/immobilier-paris-quelles-evolutions-en-2015-et-debut-2016
https://www.youtube.com/watch?v=Xw7PIAxYTi4
https://www.artforum.com/news/kerry-james-marshall-painting-steals-the-show-at-sotheby-s-284-5-million-contemporary-art-evening-auction-75456
https://carbuzz.com/news/ferrari-250-gto-sells-for-world-record-80-million
https://www.bbc.com/news/world-africa-41398871
https://www.privateislandsonline.com/united-states/florida/pumpkin-key