Today, we are launching a new cross-border trading feature, which means our users can now access the deep liquidity of the Japanese bitcoin market from Europe. For the very first time, all European users will be able to access one of the largest bitcoin markets in the world, while still under the umbrella of our European-regulated platform.
Access to the Japanese bitcoin market
Before the implementation of our cross-border trading, it was virtually impossible for traders in Europe to participate in the BTC/JPY market.
We now offer the possibility to our European users to access a market with its own dynamics and behaviour which was not accessible before for non-Japanese users.
Japan is one of the biggest bitcoin markets in the world. Approximately 20% of global BTC to FIAT (national currencies) trading volume is against the Japanese yen. Also, bitFlyer, Japan's largest cryptocurrency exchange, accounts for more than 70% of the JPY trading volume.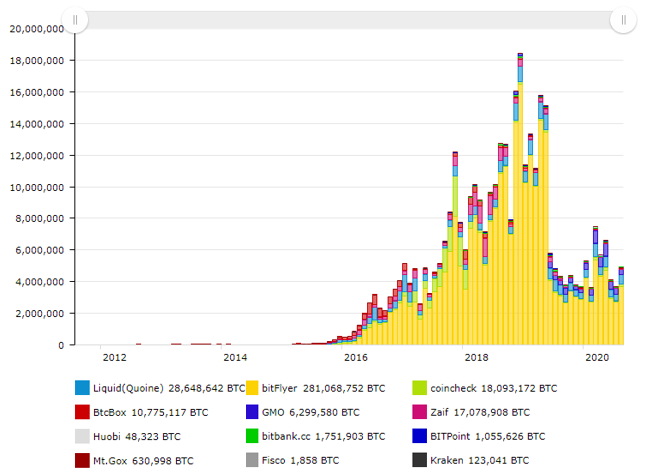 European regulation, Japanese trading
All of our entities are regulated to the highest standards according to their jurisdictions, meaning proper controls and compliance with local AML and KYC laws.
The same is true for cross-border trading. When trading BTC/JPY via bitFlyer Europe, you will still be subject to the same, existing, European privacy policies and your rights will not be affected.
You can now access BTC/JPY trading with just one account – and therefore removing the need to open multiple accounts across different exchange platforms, enhancing security and easing access.
Cross-border trading - Unique to bitFlyer
As of today, we're not only the first cryptocurrency exchange that is licensed to operate in Japan, the EU, and the US combined, but we're also the first to facilitate this cross-border access to our prized JPY liquidity.
Our long-term objective is to have all spot trading pairs available across all regions, including BTC/JPY in the US, BTC/USD in Europe and Japan, and BTC/EUR in Japan and the US.
The launch of cross-border trading is revolutionary for the cryptocurrency industry. We are very excited to see how our customers use the feature and benefit from the opportunity to trade in one of the largest and most liquid markets in the world.
If you are ready to start your cryptocurrency journey and would like to use cross-border trading: