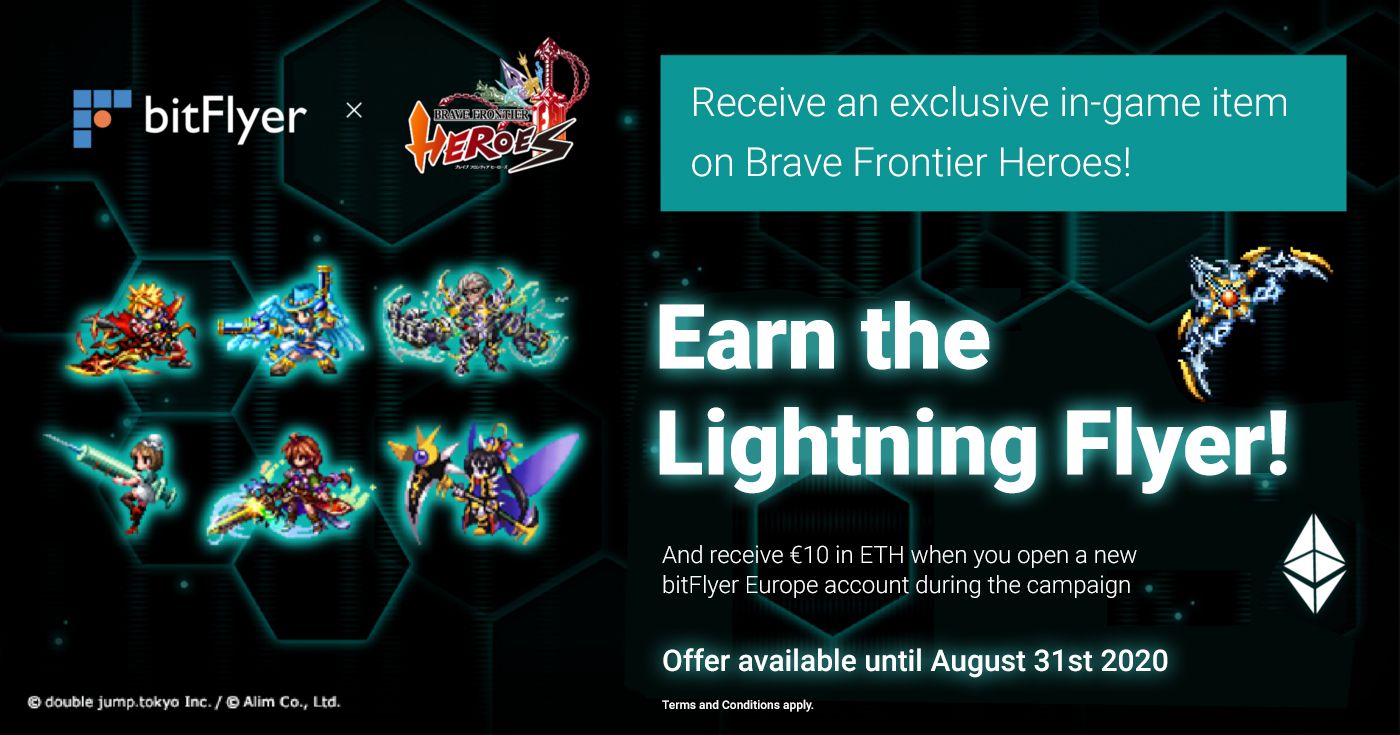 bitFlyer Europe is partnering with Brave Frontier Heroes and giving away exclusive in-game items as well as Ethereum!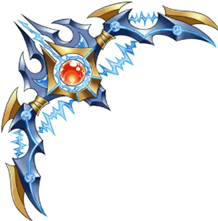 To participate in the item giveaway campaign and receive the Lightning Flyer item:
Purchase at least 0.2 ETH on bitFlyer Europe;
Withdraw at least 0.2 ETH from bitFlyer to a Brave Frontier Heroes wallet address;
Buy at least 0.2 ETH in Zel (in-game currency) in Brave Frontier Heroes.
480 eligible partners will receive the Lightning Flyer in-game item directly in their Brave Frontier Heroes account.
Note that standard withdrawal fees will apply to those transactions. Eligible participants will be determined at the end of the campaign, and the attribution of in-game rewards may take up to four weeks after the end of the promotional period.
To participate in the ETH giveaway campaign and receive €10 in ETH on your bitFlyer account:
Download the Brave Frontier Heroes game on the App Store or Google Play Store;
Use the link provided inside the app to create a new bitFlyer Europe Account;
Provide verification documents to upgrade your account to Trade Pro class.
Eligible accounts will receive the ETH reward directly on their bitFlyer Europe account at the end of the promotion phase.
This offer only applies to new customers resident in the European Union who do not already own a bitFlyer account. Identity documents will be required to upgrade a customer account to Trade Pro class. Eligibility to the offer may be revoked if a customer account is suspected of being a duplicate of an existing account. The reward can only be attributed once per customer account or user, and will be attributed to eligible accounts within four weeks after the end of the promotional period.
For more information please visit: bravefrontierheroes.com.
You can directly download Brave Frontier Heroes for iOS or Android.
This offer will only be available until August 31st, 2020 - get started today if you want to receive those exclusive rewards!